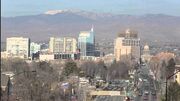 Boise is the capital and most populous city of the U.S. state of Idaho, and is the county seat of Ada County. Located on the Boise River in southwestern Idaho, the population of Boise at the 2010 Census was 205,671, the 99th largest in the United States. Its estimated population in 2016 was 223,154.
In 1934, Boise had two or three semipro baseball teams. In July, the House of Daniel came to Boise to play the Broncos. Despite having a veteran pitcher, the Broncos made too many errors. The final score was 16-4, for the House. House manager Harv Watrous, always gracious in victory and defeat, assured the Broncos' manager that the House had been similarly clobbered in Twin Falls the day before.[1]
Another team of note was the Boise Senators, who had been part of the failed Utah-Idaho League before it went under.[2]
References
[
]
Capitals of the United States by jurisdiction
Nation (OTL):
States (OTL):
Territories (OTL):
States (Ficitional):