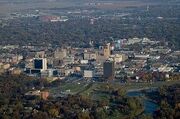 Bismarck is the capital of the U.S. state of North Dakota and the county seat of Burleigh County. It is the second-most populous city in North Dakota after Fargo. The city's population was estimated in 2018 at 73,112, while its metropolitan population was 132,678. In 2017, Forbes magazine ranked Bismarck as the seventh fastest-growing small city in the United States.
Bismarck was founded in 1872 as Missouri Crossing, and renamed Bismarck in 1873, in honor of German chancellor Otto von Bismarck. It is the only US state capital named for a foreign statesman. Railroad officials hoped to attract German immigrant settlers to the area and German investment in the railroad. It became the capital of the new state of North Dakota in 1889.
Bismarck was a city in Dakota. Flora Blackford and her son Joshua traveled there in 1937, en route to the funeral of Joshua's father Hosea Blackford in Frankfort.[1]
References
[
]
Capitals of the United States by jurisdiction
Nation (OTL):
States (OTL):
Territories (OTL):
States (Ficitional):