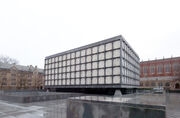 The Beinecke Rare Book & Manuscript Library is the rare book library and literary archive of the Yale University Library in New Haven, Connecticut. Situated on Yale University's Hewitt Quadrangle, the building was designed by Gordon Bunshaft of Skidmore, Owings & Merrill and completed in 1963. Established by a gift of the Beinecke family and given its own endowment, the library is financially independent from the university and is co-governed by the University Library and Yale Corporation. It is one of the largest buildings in the world entirely dedicated to rare books and manuscripts.
Beinecke Rare Book and Manuscript Library in "Manuscript Tradition"

[

]
Shortly after the Voynich Manuscript arrived at the Beinecke Rare Book and Manuscript Library, the author of the Manuscript, an alien who used the name "Loquasto" secured employment as the library's janitor. He hid his longevity by establishing a tradition of the "Loquasto" family acting as janitors.
In 2219, Loquasto was forced to confess his true identity to the curator, Feyrouz Hanafusa when images from the exploratory crawler that had arrived on Loquasto's home planet, Faraday, began arriving at Earth. Hanafusa realized some of the images of Faraday's flora were identical to the odd plants and flowers depicted in the Voynich Manuscript. She then caught Loquasto as he searched for the manuscript, and he told his story.
Hours later, further images more concretely connected the Voynich Manuscript to intelligent life on Faraday. Hanafusa was inundated with calls by Manuscript enthusiasts, and Loquasto was forced to fake his death and go into hiding.[1]
References
[
]