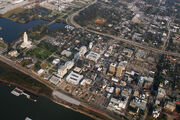 Baton Rouge is the capital city of the state of Louisiana. The city is the second largest in the state, and has a population of 229,553 people as of the 2010 census. Only New Orleans is larger. The metropolitan area surrounding the city, known as Greater Baton Rouge, has a population of 802,484 people as of 2010. The urban area has around 450,000 inhabitants.
The funeral of assassinated Senator Huey Long was held in Baton Rouge. Journalist Mike Sullivan, witnessing the corrupt, overwrought spectacle of Long's funeral, briefly reconsidered his opposition to President Joe Steele's administration, but realized he needed to keep fighting Steele, to make up for the incompetent opposition he saw in Louisiana.[1]
Governor Huey Long of the Radical Liberal Party ruled Louisiana from Baton Rouge throughout the first half of the 1930s. On the orders of Confederate President Jake Featherston, Long was murdered in the capitol building in 1937.
References
[
]
Capitals of the United States by jurisdiction
Nation (OTL):
States (OTL):
Territories (OTL):
States (Ficitional):
Joe Steele
Works
POV Characters
Secondary Characters
Events
Geography