Bart was a Detinan general. Early in the Detinan Civil War, he won several victories against "King" Geoffrey's forces in the eastern provinces and made a name for himself by capturing the Great River port city of Camphorville after a very long campaign. When General Guildenstern's army was besieged at Rising Rock following the debacle at the River of Death, Bart was sent to repair the situation. Along with Generals Hesmucet and Doubting George, Bart planned a successful counterattack which drove Thraxton the Braggart from some very advantageous terrain.
The following winter, King Avram promoted Bart to the rank of Marshal, making him the first Detinan officer to hold that rank in eighty years. Bart planned a coordinated strategy in the eastern and western theaters of the war, with himself leading western forces against the Army of Southern Parthenia and Hesmucet commanding against the Army of Franklin. In this campaign, Bart suffered some tactical setbacks but doggedly advanced and, despite high casualties, trapped the once-vaunted Edward of Arlington in the besieged city of Pierreville within a few months. On other fronts, he had the utmost confidence in General Hesmucet's abilities, but periodically gave orders to commanders in other theaters, notably Doubting George in Franklin Province. (George, who had once enjoyed serving under Bart, had become embittered by this point and resented the Marshal's interference.) When the war ended in victory for the loyal forces, Bart was the toast of the South. Not bad for a tanner's son.
Literary comment
[
]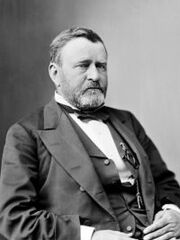 Bart is closely modeled on General Ulysses Simpson Grant. The name Bart is most likely a reference to the popular cartoon character Bart Simpson.