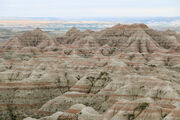 Badlands National Park (Lakota: Makȟóšiča) is an American national park located in southwestern South Dakota. The park protects 242,756 acres (379.3 sq mi; 982.4 km2) of sharply eroded buttes and pinnacles, along with the largest undisturbed mixed grass prairie in the United States. The National Park Service manages the park, with the South Unit being co-managed with the Oglala Lakota tribe, a subdivision of the Sioux.
The Badlands Wilderness protects 64,144 acres (100.2 sq mi; 259.6 km2) of the park as a designated wilderness area, and is one site where the black-footed ferret, one of the most endangered mammals in the world, was reintroduced to the wild. The South Unit, or Stronghold District, includes sites of 1890s Ghost Dances, a former United States Air Force bomb and gunnery range, and Red Shirt Table, the park's highest point at 3,340 feet (1,020 m). The Badlands are also known for a wealth of prehistoric fossils.
The paleontologist Ontinil led an expedition into the Badlands to collect fossils. At Fort Ironclaw (the "Gateway" to the Badlands), he secured the services of a guide named Rekek, and Rekek's son Junior. While on the expedition, the group encountered Red Cloud's people, and Ontinil's primary rival, Trinka. As Ontinil had previously dealt with Red Cloud fairly, Red Cloud allowed Ontinil to dig. Trinka had not secured Red Cloud's permission to dig; as punishment, Red Cloud sent Trinka's people on their way, but gave the fossils they dug up to Ontinil.[1]
References
[
]
↑ Analog, May/June 2019, Vol. CXXXIX, nos. 5 & 6, pg. 10-26.