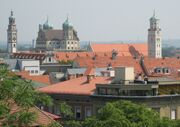 Augsburg is a city in the south-west of Bavaria, Germany. It is home of the Regierungsbezirk Schwaben and also of the Bezirk Schwaben and the Landkreis Augsburg. It is the third-largest city in Bavaria with a population of 284,000 citizens in 2015.
A German woman blew herself up along with American troops in Augsburg in summer of 1945.[1]
Augsburg was one of two West German cities destroyed by Soviet atomic bombs on February 1, 1951 in retaliation for American nuclear attacks on Manchurian cities on January 23.[2]
References
[
]