Atlanta is the capital and the most populous city of the State of Georgia. One of the chief business centers of the southeast, it is home to many Fortune 500 companies, including the Coca-Cola company, whose signature product was invented in Atlanta in 1886. The city is one of the fastest-growing in the United States, adding 1.1 million people between 2000 and 2008, and hosted the 1996 Summer Olympics.
In the mid 19th century, one of the United States Army's final masterstrokes of the American Civil War was General William Sherman's capture of Atlanta in 1864.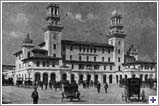 Terminus was the home of the Federated Commonwealths' Disease Research Center. In 1988, the DRC was making substantial breakthroughs in combating the AIDS epidemic by studying infected sims, when a pair of young activists took the young sim Matt.
Although Atlanta was destroyed in a disaster and remained in ruins, the secret recipe for Coca Cola was found and become one of the main exports of the weakened United States.[1]
At the outbreak of the Second Great War, the United States claimed to have successfully bombed Atlanta which was viewed with skepticism.[2]
In 1943, at the climax of the war in North America, U.S. general Irving Morrell targeted Atlanta after the capture of Chattanooga as it was the last major Confederate east-west transportation hub. After desperate fighting led by Confederate General George Patton to keep the U.S. out of the city, the C.S. realized that keeping Atlanta would be too costly in terms of manpower. In late December 1943, the C.S. army quietly withdrew on an overcast night with minimal losses. The U.S. Army subsequently moved in. The occupation authorities later removed Mayor Andrew Crowley from his position after the war had ended, replacing him with Clark Butler, who held the equivalent title of town commissioner.
See also
[
]
References
[
]
Capitals of the United States by jurisdiction
Nation (OTL):
States (OTL):
Territories (OTL):
States (Ficitional):