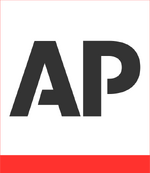 The Associated Press, or AP, is an American news agency, the world's largest such organization. The AP is a cooperative owned by its contributing newspapers and radio stations in the United States, who both contribute stories to it and use material written by its staffers. Many newspapers and broadcasters outside the United States are AP subscribers — that is, they pay a fee to use AP material but are not members of the cooperative.
The Associated Press in Joe Steele

[

]
Charlie Sullivan got his start with the AP as a Chicago stringer covering the 1932 Democratic National Convention.[1] After Joe Steele won the nomination, he continued to cover the 1932 election for AP and was present at the Steele victory party at Fresno Memorial Auditorium election night.[2] Sullivan then became an AP staffer at the Washington, DC bureau, where he favorably covered now President Steele.
The AP ran a story on the dire situation in the Philippines in April 1942. The story focused on the Bataan Peninsula, specifically the lack of food and medical supplies provided to American troops.
References
[
]
Joe Steele
Works
POV Characters
Secondary Characters
Events
Geography