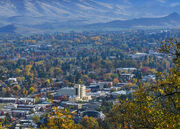 Ashland is a city in Jackson County, in the U.S. state of Oregon. It lies along Interstate 5 slightly north of the California border and near the south end of the Bear Creek Valley, an arm of the Rogue Valley.
The city is the home of Southern Oregon University (SOU) and the Oregon Shakespeare Festival (OSF). These are important to Ashland's economy, which also depends on restaurants, galleries, and retail stores that cater to playgoers and other visitors.
Ashland was a town in the state of Jefferson, just under 40 miles from the state capital, Yreka. It was a college town, serving as the home of Jefferson State Ashland and the Ashland Shakespeare Festival. Consequently, the town's economy was geared towards college students and tourists.[1]
References
[
]