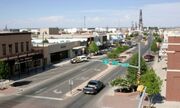 Artesia is a city in Eddy County, New Mexico, United States, centered at the intersection of U.S. Route 82 and U.S. Route 285; the two highways serve as the city's Main Street and First Street, respectively. As of the 2010 census, the city population was 11,301. The town was established in 1903 after the discovery of an artesian aquifer in the area; artesian wells for agriculture flourished in the area until the aquifer became significantly depleted in the 1920s. The city was officially incorporated in 1905.
Artesia was named for the first well dug in the area. The founders made a deal with the water elementals that lived under ground to insure that the well never dried out. The founders also made a deal with earth elementals, and insured a constant flow of oil. In May 1934, Artesia was comparatively prosperous.[1]
Their semi-pro baseball team was the Artesia Drillers.[2] The House of Daniel lost to the Drillers in a game in May, 1934.[3]
That night, after the team ate their dinner at a greasy spoon, they were nearly attacked by a werewolf. They were saved by the quick thinking of pitcher Fidgety Frank Carlisle, who threw a silver half-dollar at the werewolf, hitting it in the nose. The werewolf ran off, and the group went back to the boarding house.[4]
Joe Bauman lived in Artesia and played for the Drillers, before moving to Roswell and joining the Rockets. In 1954, he played a memorable game against his old team, which included an unprecedented element.
References
[
]