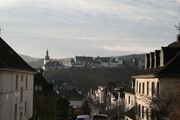 Arnsberg is a town in the Hochsauerland district, in North Rhine-Westphalia, Germany. It is the location of the Regierungsbezirk Arnsberg's administration and one of the three local administration offices of the Hochsauerlandkreis.
During World War III, Soviet forces besieged Arnsberg throughout March, 1951.[1] The town finally fell at the end of the month; there wasn't much left of the place when it did.[2]
Arnsberg remained in Soviet hands until the war ended in July, 1952. The allies had begun a siege of the town just prior to the peace.[3]
References
[
]