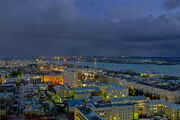 Arkhangelsk sometimes Archangel, is a city and the administrative center of Arkhangelsk Oblast, Russia. It lies on both banks of the Northern Dvina River near its exit into the White Sea, in the north of European Russia.
William Radcliff's trading firm sent Terranovan goods to Arkhangelsk in the mid 17th century.[1]
Murmansk, Arkhangelsk, and Odessa, were subjected to American atomic bombs in May 1952, in retaliation for the Soviet atomic bombings of Washington, DC, New York, and Boston.[2]
The port city of Arkhangelsk was the only major contention between England and the Soviet Union. During the 'Big Switch', the RN attempted to get at the Soviet Fleet in the port but were unable to due to mines and the Red Air Force.
After the 1941 British Military Coup, the BEF returned to England via the port city.
References
[
]