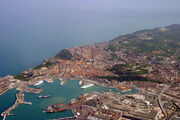 Ancona is a city and seaport in the Marche region in central Italy, with a population of around 101,997 as of 2015. Ancona is the capital of the province of Ancona and of the region. The city is located 280 km (170 mi) northeast of Rome, on the Adriatic Sea, between the slopes of the two extremities of the promontory of Monte Conero, Monte Astagno and Monte Guasco.
Founded as Ankon ("elbow," for the region's geography) in 387 BC by Syracusan colonists, Ancona was part of the Roman and Byzantine Empires before setting up as the center of an independent republic in the 11th century. This lasted until 1532, when Ancona was annexed by the Papal States, which in the 19th century were absorbed into a unified Italy.
In 538, the Roman Emperor Justinian sent the jurist Tribonian to the Kingdom of Italy. Tribonian disembarked at Ancona.[1]
Ancona was a port of the Italian Social Republic, located on the Adriatic Sea across from the Independent State of Croatia.
In 1979, British MI agents George Smith and Peter Drinkwater lived in Ancona as fishermen, building up their cover identities Giorgio Ferrero and Pietro Bevacqua for a mission into Croatia.
References
[
]
↑ Lest Darkness Fall & Timeless Tales Written in Tribute (second edition), pgs. 376-379 , loc. 4911-4961.