Albert VII, Archduke of Austria
(13 November 1559 – 13 July 1621) was an
Austrian
prince and an archduke of the
Hapsburg
dynasty at the height of that family's power in the 16th and 17th centuries. He served his family as the ruler of the
Hapsburg Netherlands
from 1595 until his death in 1621. He first ruled his family's holdings in the southern
Low Countries
and northern
France
as Governor. He was Archbishop of
Toledo, Spain
from 1595 until 1598, when a dispensation by the
Catholic Church
allowed him to leave the clergy in order to marry his first cousin,
Infanta Isabella of Spain
, the daughter of
King Philip II
. As husband and wife they reigned over the Hapsburg Netherlands as co-sovereigns.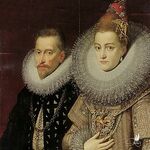 King Albert of England, also known as Albert Hapsburg or Albert of Austria, was an Austrian prince of the Hapsburg dynasty. He was a nephew of Spain's King Philip II and a cousin of his daughter, Isabella. Albert married Isabella some time after the Spanish Armada conquered England in 1588, and as the Spaniards had imprisoned ex-Queen Elizabeth in the Tower of London and proclaimed Isabella the new Queen, Albert became King of England by marriage. However, Albert was seen mostly as an appendage of his wife and was not taken seriously as a ruler in his own right.[1] The couple were in turn subservient to Philip II, even though England remained legally a realm separate of the Spanish Crown.
The reign of Albert and Isabella saw the restoration of Catholic rule in England, the establishment of the English Inquisition to enforce Catholic orthodoxy among the English and the introduction of Pope Gregory XIII's new calendar to the island. Their position, however, was entirely reliant on a Spanish occupation army led by Don Diego Flores de Valdes and the collaboration of English notables whose profession of Catholicism was often phony. When the English rose in revolt and crushed the Spaniards in 1598, Albert and Isabella narrowly escaped England with their lives and Elizabeth was restored.
During Albert and Isabella's decade-long reign, silver and copper coins bearing the image of the royal couple circulated in England, though they never displaced the coins bearing the image of Elizabeth completely.[2]
Literary comment
The marriage of Isabella and Albert occurred in the novel much earlier than in OTL. The novel's afterword explains how their schedule was accelerated by the POD.
References
Regnal titles
(OTL)
Preceded by
Philip II of Spain
Duke of Lothier, Brabant, Limburg and Luxembourg;
Count Palatine of Burgundy;
Count of Flanders, Artois, Hainaut, and Namur
6 May 1598 - 13 July 1621
with Isabella Clara Eugenia (1598-1621)
Succeeded by
Philip IV of Spain
Preceded by
Matthias, Holy Roman Emperor
Archduke of Austria
20 March - 5 October 1619
Succeeded by
Ferdinand II, Holy Roman Emperor
Political offices
(OTL)
Preceded by
Pedro Henriquez de Acevedo
Governor of the Spanish Netherlands
1596–1598
Vacant

Title next held by

Isabella Clara Eugenia of Spain
Religious titles
(OTL)
Preceded by
Gaspar de Quiroga y Vela
Archbishop of Toledo
1595–1598
Succeeded by
Garcia Loayasa y Giron
Regnal titles
(Ruled Britannia)
Preceded by
Elizabeth
King of England
(jure uxoris)
1589(?)-1598
With: Queen Isabella
Succeeded by
Elizabeth
Community content is available under
CC-BY-SA
unless otherwise noted.