Agent of Byzantium is a collection of related short stories of alternate history by Harry Turtledove. Based on the 6th-century Point of Divergence detailed in the story "Departures," (in which Muhammad converted to Christianity) the stories in Agent of Byzantium chronicle the adventures of imperial agent Basil Argyros in the mighty Roman (Byzantine) Empire, whose chief rival is a longer lived Persian Empire. The stories cover the period 1305 to 1320 AD.
Originally published by Congdon & Weed in 1987, it was first published in paperback by Worldwide in the United States and Seven Oaks in the United Kingdom the following year. In 1994, Baen reprinted the book with an additional story.
The introduction to Agent of Byzantium was written by Dr. Isaac Asimov.
Stories
[
]
The story "Departures" has never been reprinted in any edition of Agent of Byzantium, even though it is set in the same timeline.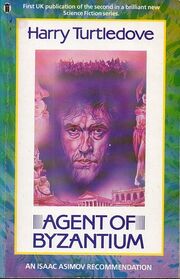 Agent of Byzantium
POV Characters
Stories
Geography