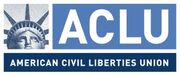 The American Civil Liberties Union, also known as the ACLU, is a nonpartisan, non-profit organization whose stated mission is "to defend and preserve the individual rights and liberties guaranteed to every person in this country by the Constitution and laws of the United States." It works through litigation, lobbying, and community empowerment. Founded in 1920, the ACLU has over 500,000 members and has an annual budget of over $100 million. Local affiliates of the ACLU are active in all 50 states and the Commonwealth of Puerto Rico. The ACLU provides legal assistance in cases when it considers civil liberties to be at risk. Legal support from the ACLU can take the form of direct legal representation, or preparation of amicus curiae briefs expressing legal arguments (when another law firm is already providing representation).
The ACLU represented the case of the Supreme Court judges accused of treason and conspiring with Nazi Germany, known as the Supreme Court Four, before the military tribunals. The judges were represented by the ACLU lawyers, one of them being the flamboyantly dressed Levine. To the latter's shock, the four men he was defending all agreed to plead guilty and were sentenced to death by firing squad.[1] Despite his protesting the ruling, stating that the men were coerced, and his appealing to President Joe Steele,[2] the judges were shot.
Before their execution, the disgraced judges named Father Coughlin as their co-conspirator. The two ACLU lawyers, including Levine, defended Coughlin in this case. Yet again, their defendant pleaded guilty [3], to their horror, was convicted and shot.
References
[
]
Joe Steele
Works
POV Characters
Secondary Characters
Events
Geography